You Want to Make Money Online, So Start Here!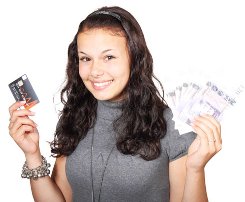 You WANT to make money online! You've heard it is possible, more possible than ever before. But, you hesitate. Afraid it is going to be expensive, right?
What if someone takes advantage of you – steals you blind! You just don't know who you can trust now-a-days. Particularly, if you want to make money online.
That's true. it COULD happen.
— Or. You might get into the wrong crowd. People who treat you well at first, but lead you astray. Then you'll become an ungodly, greedy 'Business person' …..who sends spam (Gasp!) and tricks others into buying things they don't need or want.
Yes, dear friend. Those things are possible. Particularly that last one.
However, I have good news for you. It does not have to be expensive if you listen to me – I'm not a Frugal Friesen for nothing!
As with any viable business there are some expenses, but if you stick with me, I'll show you how to learn and be earning money before you have to pay anyone. Then, when you are ready to pay for more training and mentoring – I'll lead you to the best training options so you CAN make money online.
Of course, we need to be ready to pay our dues when the right time comes. Just do not foolishly throw your money here, and there, and beyond, for no good reason. Or, without checking out what you'll get for that, and if you will really use it. There is in fact right now, enough free information out there about how to do it.
Let me assure you that evaluating business opportunities against Christian ethics is something I do all the time. (Well, I've had some lapses, but those experiences taught me some lessons; you can benefit from them now too).
I believe I have some measure of a gift of discernment, and as I have been online since 1999, I have enough experience to have practiced some cautious entries into ventures. Some I am still with, and am very loyal to them. Others I have dropped like hot potatoes; I don't recommend you make money online that way!
This is where I can highly recommend, making these moves into the business world with much prayer and asking God for guidance by His Spirit. Particularly if you are ready to promise to stay out of anything wrong or even shady. God does not hesitate to help us in business, but we should have pure motives. No "readiness" in the back of our minds to take devious short-cuts or to ruin others so we can step over them.
Discovering the true motives of people and and watching, listening for clues as to whether their methods are anywhere close to Biblical standards of behaviour is always important to me. If you choose to follow me around you will be able to pick up these tuning habits as well.
You can see how I went about learning to become a business woman online.
We always have to be on guard that we don't get cocky and think we can't be tricked, for then we are likely to fall on our faces. However, with that as a guardrail, I can reassure you that doing business online does not have to be scary at all. Many kind and caring people are in the online business scene. We are able to be in good company and make some fine, trustworthy friends.
Indeed, some people will go out of their way to help us! You will get some lovely surprises that way. I've even spotted some tactful Christians who make money online – and do quite well!
Still, the best way to get ahead well, and more quickly in internet business is to find a good mentor to latch onto and to let them teach you the best ways of doing things, the best tools to use, and yet give you room to keep your own personality and flare.
Right now is a perfect time to come onboard, because the prevailing philosophy for online business is "Attraction Marketing." That is defined as winning people over by sharing helpful information so that strangers will like, and trust, and follow you. You only share your business plan with them once they ask you for it.
This approach to making money online boils down to these 5 basic steps;
1. Define and build your brand of You.
2. Learn from someone who has the goods on how to do "Attraction Marketing."
3. Choose one or two of the many methods and do them until you succeed.
4. Offer helpful tips and guidance to those who begin to follow you.
5. When asked how you make money online, share your business program(s).
6. Offer to sign them up and to train them in your methods.
Now that assumes that you have a business to promote. If you don't have one right away there are some affiliate products you can promote until you settle on a bigger plan. Usually, by the time you have followed someone through the 6 steps, you will have one.
Many of us discover that we are drawn to several business Programs or Products, and if we set up our online marketing right, we can offer our followers a smorgasbord of opportunities. One size (opportunity) doesn't necessarily fit everyone, so I'm prepared to introduce each one who follows me to the one idea I think they would like best, or I'll share several with them and let them choose.
P.S. In my next session I'll show you how to shop around for a good mentor. I'm willing to be your mentor, but what if there is a better one, more suited to you? (I just want to be fair to you!)