How to Build My Business Website to Be Effective Online?
You: Can you show me how to build my business website? it appears I need one to be effective online.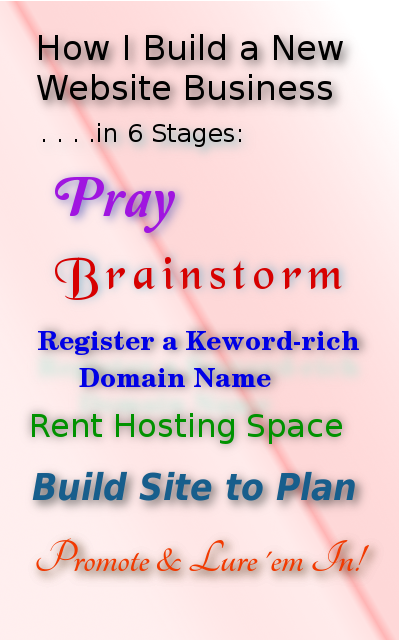 Me: Yes. There are some who manage to run their internet business all from their social media accounts and perhaps some emails, But sooner or later most people realize that they need a business website to show who they are and provide lots of content or information for those who want to learn from them, or just check them out. (There's nothing like providing your own reference documents, eh?)
My way to build a business website is to pray first, and ask the Lord for wisdom and guidance. Then pay attention to the ideas and prompts that come to mind, or that others suggest. That is, others who seem to have a successful business website.
(But note that there are so MANY gurus out there now that want to show you what to do, that you can afford to shop for good quality advice. Don't necessarily snap up the first one that appears).
Incidentally, this should not be a store website, which is set up for purchasing only; but one about YOU and who you are and why people can trust you. Or, it can be an Information site about a topic you have researched or know very well.
If you are willing to trust my experience and counsel, I can proceed with further steps that I would take if I were starting fresh – but still knew all that I have learned since 1999.
I'm telling you for free here; I would move forward with the following steps;
Prayer
Simply put, I believe God cares about every detail of our lives. He is most concerned about building the character of Christ into us, and He will use our business website to do that, whether we ask His help or not. However, if we cooperate with Him and seek out His help and advice up front – we will be further ahead, and may succeed – at least better, if not faster – than if we stubbornly do things our own way and keep running into dead-ends.
Planning my Brand and my Message
What specific goals do I want to accomplish with this website?
So much hangs on this! The type of business website, it's name and theme, and the slant your information takes on it all depends on your goals and who you want to reach. If you don't know that – don't start just yet!
Brainstorm
Brainstorm with someone who understands how websites work. Not just technically, but business-wise, just how you should build your business website to accomplish those goals.
This should lead to the best domain name for the site as well. Your own name might be a good choice. Especially if you are going to brand yourself – who you are – and run several business ventures under your name. However, there may be good reasons for a keyword-rich domain name too.
If you do not have someone knowledgeable to brainstorm with, I suggest SBI, which has excellent brainstorming and guidance with an Action Guide video series. (You do not have to know or learn HTML to use SBI, though it sure can't hurt).
Register Your Domain Name
Either using SBI, or on your own, if you have had good counsel, you can now register a domain for your business website.
Incidentally, the current rage is to set up a WordPress blog. If your site is going to have a lot of currently new and fresh information, and if you plan to update it often, (like daily, or at least weekly), then yes a blog is a good idea. Remember though, that the search engines see them as newspapers. Hot news today, but bird-cage liner material in couple of days.
You can get around that by creating a WordPress site that uses the "Pages" more than the "blog posts." Pages are considered more permanent.
However, if you want your site to have 'Evergreen' content you might be far wiser in the long run to put up a regular website, with lots of informative pages. You can do that with SBI, (including WordPress) where you don't have to know HTML, or if you do you can build it up from raw code, for a lot less.
Personally, I've become very disappointed in WordPress in the last couple of years. During these COVID pandemic years it seems the hackers have multiplied and for some reason they see a WordPress blog site as easy to break into and take over. I had added a WordPress blog to four of my sites and to some for my charity clients, but I've found evidence of hacking when checking STATS, and even had thousands of users register for one blog without offering any form for them to do so! I found a hacker had set up a small site in a foreign language in a back corner of a client's blog - of course, I deleted it with lightening speed! But I've removed my files from four of my blogs now, and transferred them to the static sites they were connected to.
Hosting
Next you need a piece of internet real estate where you can set up up. SBI includes this, but there are many other places to buy hosting – even from me, if you are registering a domain on your own. In ten minutes to 48 hours your domain name should be connected to your hosting space. Now you are ready to build your site. (I have a Domain name Reseller business, but I try to stick to friends and people I know and trust, so you have to contact me personally to get in).
Build Your Business Website!
This can happen in several ways.
If you are using SBI you just fill in the information for each webpage in the blocks of the SBI Builder, and publish each page as you get it done.
If you are a do-it-yourself-er like me, you would learn HTML coding to prepare your web pages, starting with a template page, so you can get them looking alike as if they all belong to the same place.
If you expect to be mainly blogging, you can install the WordPress software in a few simple steps, and then log in there and and put up your content, as I said, either as pages (permanent), or blog posts (older ones slip away as you publish newer ones). You do not have to know HTML to do this, but it wouldn't hurt. I taught myself HTML coding way back when I published my novel. I have found it very useful to create precisely what I have in mind. But with the advent of mobile devices, I am finding that I have to update my HTML skills with some new learning now if I want to continue to code like a true geek. Knowing the HTML coding method means I can trouble-shoot problems for myself for the most part. If you don't know coding you will need to cry for help sometimes if your site or page has serious problems and you can't figure out how to fix the problem.
(The geeks generally want to be paid for their time trouble-shooting for you).
Finally, be prepared to be learning all the rest of your life – well, at least as long as you want to make money online. When you are ready to give up on living; I guess it would be safe to stop learning then!
To tell you the truth, there are so many ways to go about building a business website, and the planning stage is so crucial that I would highly recommend SBI (that stands for Solo Build It), where you are guided through all the brainstorming steps and all the options so thoroughly that if you follow the Action Guide (videos or manual) you cannot help but succeed! It just is not the over-night project that some would make you believe.
Listen, if you can handle more than one project at once, I think you can be making profits faster if you set up an autoresponder and start a mailing list at the same time as your site. Prepare a funnel or capture page or two on your site, offering a good lead magnet (free, or at low cost). Then place ads on social media and AdWords, etc., to draw people to your funnel or capture page, so that you automatically subscribe them to your mailing list, in return for your lead magnet.
When that's all set up get into the habit of writing your mailing list two or three times a week, encourage them, give them more helpful information, and occasionally (about every 4th or 5th email) recommend some affiliate product that you know would be useful to them. That way you can start to make sales WHILE you are still building up your website. Remember, that's your long-term project, but some of these other things could start too in the meantime.
Yes, yes! I will show you those steps as well. Just keep reading these articles and my eAction emails.